Return To Blog
4 Steps to Hit the Reset Button with Your Team in 2018
---
by Audrey Epstein December 20 , 2017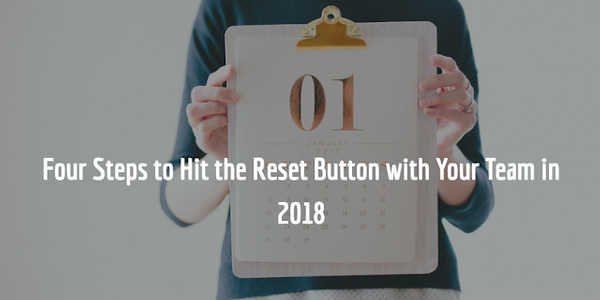 The New Year brings with it the opportunity for change, growth, and renewal. We commit to accomplish new goals or resolve to finally complete old ambitions. Most of us feel more optimistic at the beginning of the year. New Year's Resolutions are expected. Gym memberships go through the roof in January. The "fresh start" feel of each new year is infectious.

What if we could start over with our teams as well? What if we could take the old patterns of dysfunction, of gossip and infighting, or cliques and politics of 2017, and turn them into high-performing team behaviors in 2018? Toxic team behaviors destroy employee morale and engagement, stifles creativity, and stakes personal agendas above the team or company goals.

So, how do you reset with your team? 
Read full article here.